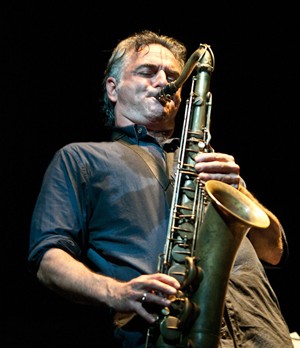 Avram Fefer is an American saxophonist, composer and bandleader, currently residing in New York City. He has been performing and recording since 1990, with eleven album releases as a leader and many more as a sideman. He has performed with world-class musicians throughout North America, Europe, Asia, Africa, and the Middle East, and enjoys collaborations with creative artists of all sorts, including poets, dancers, visual artists, DJ's, and digital sound designers, among others.
His writings have been published in several books; his music has appeared in a variety of films and television shows; he has been teaching privately for over 20 years; and he has performed in several notable theatre productions, including award-winning director Melvin Van Peebles' production of Sweet Sweetback's Baaadaaaas Song, and the New York Theater Workshop's production of A Streetcar Named Desire, directed by Ivo Van Hove. Recently, he initiated the Resonant Sculpture Project, an international series of solo musical interactions with the large-scale work of renowned sculptor, Richard Serra. It is a new and innovative work that has succesfully presented at Gagosian Gallery in New York and London, as well as the Princeton Museum of Art.
With a distinctive voice on each of his many woodwinds, Avram is known for the depth, intelligence, and soulfulness that he brings to a wide variety of musical settings. These include performances and recordings of straight-ahead and avant-garde jazz, funk, hip-hop, rhythm and blues, West and North African music, Latin, modern classical, and free jazz. He performs in groups of all sizes — from solo and duo, to big band and 45-piece orchestra.
His latest album, the long-awaited Big Picture Holiday: Shimmer and Melt, combines many of these past influences in a new and surprising way, marking a major step in his musical trajectory. As an active part of New York City's underground music scene over the last several years, this six-piece electric ensemble has thrived in the wee hours of the city's nightclubs, updating the golden era of jazz as decadent and physical groove music. On this album, he seems to be saying "Yes, it's smart, but it feels good too!!" Big Picture Holiday: Shimmer and Melt will be released on Ropeadope Records on October 30, 2015.
---
History
Avram Fefer was born near San Francisco, but his early years were also spent in Pittsburgh, PA., Stockholm, Sweden, and Washington D.C. before the family finally settled near Seattle, Washington. After several fortuitous years in the hands of inspirational high school jazz band director Leo Dodd, Avram went on to receive a liberal arts degree at Harvard University and studied music at Berklee College and New England Conservatory. He then moved to Paris, France (1990-95) where he began his career as a saxophonist, composer, bandleader and teacher.

Paris offered many new sources of inspiration and growth including a vibrant African and Arabic music scene and a wealth of American expatriate musicians. His own bands played regularly in many of the city's top jazz clubs and he performed with fellow ex-pats Jack Gregg, Bobby Few, Graham Haynes, Archie Shepp, Kirk Lightsey, Oliver Johnson, John Betsch, Sunny Murray, and Rasul Siddik among others. He played in Europe, Africa and the Mideast and was featured on diverse recordings, including by rap originators, the Last Poets (Scatterap/Home ), and with jazz legend Archie Shepp on drummer Steve McCraven's Song of the Forest Boogeraboo. He performed with afro-beat drum sensation, Tony Allen and recorded two top-selling albums for Virgin France with an 'acid-jazz' band discovered by Gilles Peterson.
After moving to New York in 1995, Fefer continued indulging his passion for a wide variety of music while developing a unique sound capable of crossing multiple genres.
His love affair with the sax/ bass/ drums trio format blossomed in the city's many jazz clubs and recording studios. His three releases — Calling All Spirits (2000), Ritual (2009), and Eliyahu (2011) — feature the bass of Eric Revis and the drums of either Igal Foni or Chad Taylor . These musicians have been playing together in varying combinations for nearly twenty years, making them one of the jazz world's preeminent sax-bass-drum trios. The interactions are fierce, the communication instantaneous, and the musical roles often shifting.
His four releases with legendary jazz pianist Bobby Few received critical acclaim and resulted in tours in Europe and the United States, as well as significant radio airplay for their classic album Kindred Spirits (2005). Whether playing together as a duo or as part of a larger group, they display an uncanny musical rapport on material ranging from interpretations of works by Monk, Mingus, and Ellington, to original compositions and extended improvisations.
Since 2005, he has been a member of the avant-funk collective Burnt Sugar conducted by writer/guitarist Greg Tate . Together they have recorded six albums of original material, as well as repertoire of Sun Ra, James Brown, Miles Davis, and Steely Dan. They have performed in Europe and at a variety of venues in New York, including numerous times at the Apollo Theater in Harlem and the Blue Note Jazz Club. They also played and acted in award-winning director Melvin Van Peebles' stage production of Sweet Sweetback's Baaadaaaas Song.
With Adam Rudolph's Organic Orchestra, he has been consistently chartering new musical territory since 2006, alongside many of New York'Äôs finest improvising musicians. They have recorded two CD'Äôs together and consistently present some of the most interesting and challenging live music on the contemporary scene.
Avram has been playing with bass phenom Michael Bisio for over 20 years. They have toured and recorded many times, including a live recording from the Vision Festival in New York City. Michael and Avram share a rare musical bond. Whether playing jazz standards, a set of improvised music, or a combination of both, their sound is authentic and expressive, allowing them to play spontaneously in a manner that is both joyous and profound.
Bassist and composer Adam Lane has been utilizing Avram's talents in many different contexts and configurations since 2001. With Adam's Full Throttle Orchestra, they toured Europe and released two CD's, including a double CD recorded Live at the Ljubjana Jazz Festival. Their two quartet recordings as the Blue Spirit Band, featuring the late trumpeter Roy Campbell and drummer Vijay Anderson, build on the improvised tradition of the American spiritual as conceived by musicians like Charles Mingus and Albert Ayler. They also have a co-operative band, the NuJu 4tet, featuring Igal Foni and trombonist Reut Regev, which performs original music from all four of its members.
---
The Road to Big Picture Holiday
A number of factors came together to lead to Avram's latest recording:
The influence of Ornette Coleman's PrimeTime, Grover Washington Jr., and electric period Miles Davis had inspired the formation of his funk band Avram's Acid Base in Paris, and continued in newer incarnations as The Tone Poets, Electric Kool-Aid, and finally, Big Picture Holiday. Featuring musicians such as Reggie Washington, Dave Fiuczynski, Jonathan Crayford, Kelvyn Bell, Kenny Wolleson, Marlon Browden, Kenny Wessel, and Dave Phelps, these groups gave Avram the opportunity to incoroporate new ideas and influences into the repertoire even as he unified the overall sound.
His exploration of trip-hop, jungle, and drum 'n bass styles were on display in the groups Squelch and Auto*Dope, both of which featured extensive improvisation, groove, and the unique tape manipulations of Bruce Grant (Huge Voodoo). These bands took a decidedly more abstract approach to texture and groove, and were big parts of downtown New York's underground scene in the late 90′s / early 2000′s.
He was often drawn to estatic dance music, playing with a number of North and West African musicians over the years, including Cheik Tidiane Seik, Francis M'Bappe, Tony Allen, Abdeljalil Kodssi, Famoro Diabate, Yacouba Cissoko, Missia Saran Diabate, Kaissa Doumbe, Abou Sylla, Baye Kouyate, and Mamady Diabate. He is featured extensively on Famoro Diabate's Kakande (2008), and on the 2004 release, New Destiny , by the Afro-Hungarian jazz group, Dallam-Dougou.
He developed a keen sense of instrumantal blend as a section player and soloist in larger ensembles like the David Murray Big Band, Butch Morris Orchestra, Joseph Bowie Defunkt Big Band, Mingus Big Band, Adam Rudolph's GO:Organic Orchestra, Karl Berger Improvisers Orchestra, Frank Lacy's Vibe Tribe, and the Rob Reddy Octet.
In 2014, after years of documenting his approach to acoustic music, he finally took his electric band into the studio to document the funkier side of his personality, resulting in the eight original pieces featured on Shimmer and Melt.