Psychoplum! is a live multimedia performance written by the italian composer Daniele Del Monaco and produced in 2013 by the experimental collective LCP.
The performance! starts out from an original script for an electro-acoustic trio with a live video interaction. The 2018 version was totally revisited and arranged for a quartet featuring Marco Cappelli at guitars, Satoshi Takeishi at drum, Ken Filiano at double bass and Daniele Del Monaco at the keyboards. Most of the experimental sounds and complex musical forms of the past version turned into songs.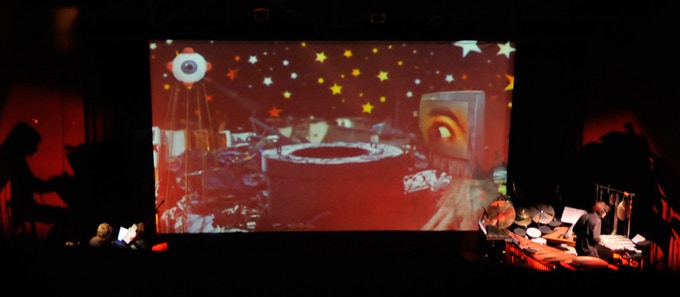 The original show was a huge production. The debut of the show in Rome was a great success but soon after LCP had other commitments and the show has never been done again.
We realized that even today, Psychoplum is one of a kind. So we decided to give a new life to this amazing project and we wanted to do big things involving great musicians from the New York downtown music and planning an ambitious schedule of recordings, live performances, and collaborations.
On 4 February 2018, we will perform Psychoplum! at Barbès, in Brooklyn but this preview will be only a first step for a great journey!
The performance tells a story through music and projected images:
The Celebraloids species is involved in exploring other planets via the Tellyhand, which travelling aboard a Psychoplum, in a kind of intergalactic Odyssey, captures images from the various worlds explored and delivers them in the King's presence. From Tellyhand's innocent and "pure" perspective, we can discover different universes full of ironic references to our own world.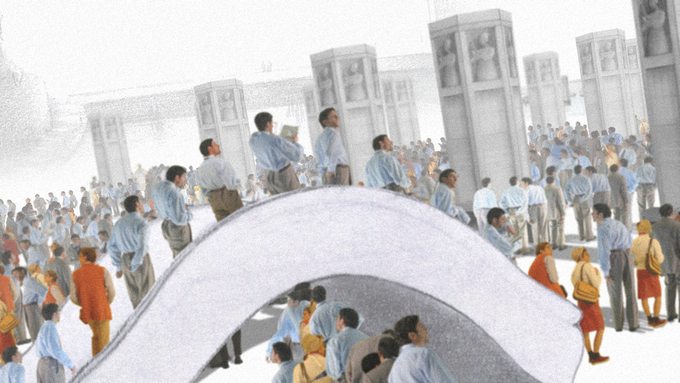 The real-time processing of the video and the use of electronic devices and sensors specifically constructed by the group for the interaction of audio and video, allow the musicians themselves to extemporaneously assembly the images.The video material was created through a mixed technique, using both traditional animation processes and typical video art techniques.